Thanksgivukkah Countdown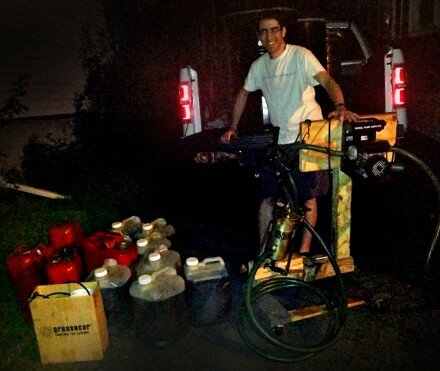 What better way to celebrate the conservation values of Hanukkah and the abundance of life at Thanksgiving than to travel to see family, powered by reused vegetable oil?
For the one out of every 133 Americans who have Celiac disease or another form of gluten intolerance, celebrating holidays can take some extra effort and planning. Mom, Jewish educator and author Gabrielle Kaplan-Mayer didn't want gluten-intolerant people, like her son, to be left out of the fun, so she created 18 gluten-free recipes for the occasion.
Thanksgivukkah Infographic
This table setting takes the best of each holiday and combines them together.
Dana Gitell is the one who dubbed the Hanukkah/Thanksgiving holiday overlap "Thanksgivukkah" and created great merchandise to celebrate it.
Share our eight original (and free!) Thanksgivukkah e-cards with family and friends to get in the double-holiday spirit.
To help you (and those celebrating with you!) light the Hanukkah candles on Thanksgivukkah, we created this easy-to-follow, printable reference guide.
Not your average kugel, but perfect for the double holiday.
A Thanksgivukkah Manifesto
Mayor Menino Declares November 28 'Thanksgivukkah' in Boston