By Mari Levine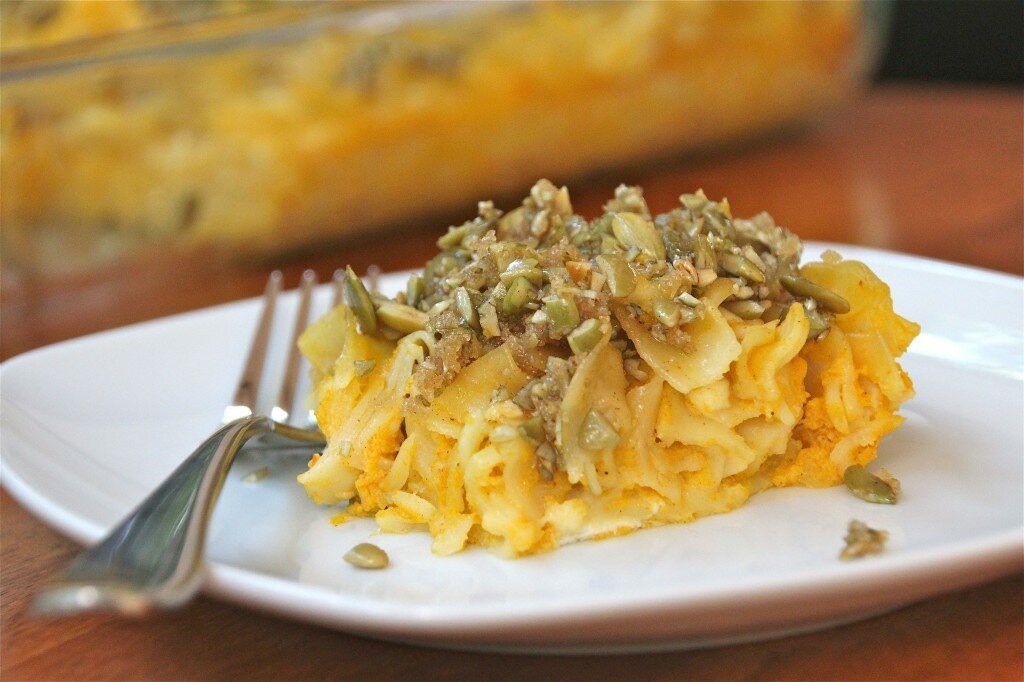 In order to get some pumpkin flavor in every bite, I used two types: pureed and seeds. The pumpkin puree gets mixed into the filling along with some other seasonal flavorings (brown sugar and cinnamon), and the seeds get chopped and incorporated into the topping. Not your average kugel, but perfect for the double holiday.
Pumpkin Kugel

Serves 12
Topping
1½ cups cornflakes, crushed coarsely
3 tablespoons butter, melted
¼ cup brown sugar
½ cup pumpkin seeds, roughly chopped
Pinch cinnamon
Pinch nutmeg
Pinch salt
Filling
12 ounces egg noodles
1 tablespoon butter
1½ cups pumpkin puree
1 cup cottage cheese
1 cup sour cream
2 large eggs
2/3 cup granulated sugar
¼ cup brown sugar
½ cup milk
½ teaspoon salt
1/8 teaspoon cinnamon
1/8 teaspoon nutmeg
1. Preheat oven to 350 degrees. Grease a 9×13-inch baking dish and set aside.
2. FOR THE TOPPING: In a medium bowl, stir together all topping ingredients. Set aside.
3. FOR THE FILLING: Bring 4 quarts of water to a boil in a large pot. Add 1 tablespoon salt and the noodles. Bring back up to boil and cook until almost tender but still a little firm to the bite, about 6 minutes. Drain noodles and transfer to large bowl. Toss with 1 tablespoon butter and allow noodles to cool.
4. Meanwhile, combine pumpkin puree, cottage cheese, sour cream, eggs, sugar, brown sugar, milk, salt, cinnamon and nutmeg in medium bowl and stir until fully combined.
5. Add pumpkin/cheese mixture to noodles and stir until equally distributed. Transfer mixture to prepared baking dish. Sprinkle topping evenly over the noodles.
6. Cover with aluminum foil and bake until custard is just about set and filling appears only slightly liquidy, about 40 minutes. Then remove foil and bake until topping is lightly brown, about 10 minutes. Transfer to cooling rack and let cool for 15 minutes. Serve warm or at room temperature.
Chosen Eats appears every Thursday on JewishBoston.com. Read past columns, or contact Mari at .