By Leah Sherman
The once-in-a-lifetime holiday of Thanksgivukkah is the perfect excuse for a new menorah, but that doesn't mean you have to buy one (unless, of course, you want to). It's easy to create a fun twist on the traditional Hanukkah menorah using materials you have on hand (well, most of them!). This homemade menorah uses pumpkins to bring a seasonal vibe to your holiday table and is a great way to engage kids of all ages.
Materials
Eight mini pumpkins and one medium pumpkin (for the shamash, or helper candle)
Tea light candles
Hanukkah menorah candles (these will be easier to use for lighting the tea lights)
Hand or electric drill fitted with 1 ½-inch-wide paddle bit (you can find the paddle bit at a hardware store for about $7)
Paint and brushes or paint pens
Other decorative materials of your choice (sequins, beads, buttons, gems, glitter, etc.)
Newspaper to protect your work surface
Instructions
Kids: Remove the stems from pumpkins. (Mine snapped right off but adults can use floral cutters if necessary.)
Adults: Using a drill with a 1 ½-inch-wide paddle bit, drill holes in the tops of the eight mini pumpkins. A hand drill will allow you to hold the pumpkin in place with one hand. I only had an electric drill, which worked great, but you will need a vice or a second adult (wearing work gloves) to hold the pumpkin in place. Make the holes just deep enough to fit the tea light candles.
Adults: For the pumpkin that will hold the shamash candle, use a regular drill bit and make a hole large enough for your Hanukkah menorah candles.
Kids: Decorate the pumpkins. I used glitter paint pens, sequins and beads, but you can use any craft materials you have on hand. Be creative!
Kids: When the decorated pumpkins are dry, line them up to create a menorah.
Kids and adults: Use your Thanksgivukkah menorah as you would any Hanukkah menorah, replacing the tea lights and shamash candle each night. Enjoy!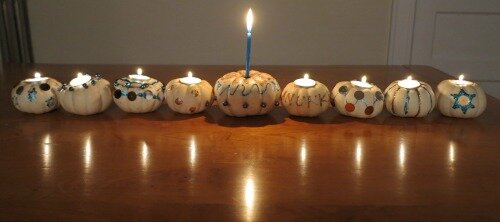 Leah Sherman is a licensed clinical social worker specializing in work with children and families. As a former preschool teacher in the JCC Early Learning Centers, she loves developing creative and fun ways to share Jewish holidays with young children. Leah lives in Newton with her husband, Rabbi Philip Sherman of Temple Beth Elohim.