By Hannah Pearlman
This year I'm excited to celebrate a once-in-a-lifetime event: Thanksgiving will overlap with Hanukkah, an event that has never happened before and won't happen again until 79811. Want to know how that works out? Here is a detailed explanation! Because we get to celebrate these two holidays at the same time due to the shifting lunar Jewish calendar, I thought I should paint some celestial galaxy nails. We get Thanksgivukkah only because the stars aligned!
To achieve this look, I started with Sally Hansen Salon Manicure Smooth & Strong Base Coat (always use a base coat to prevent staining and to protect your nails). Then I painted on two coats of Zoya Nail Polish in Storm, which is basically like a galaxy in a bottle, full of holographic sparkles. After I let that dry for a bit, I tore up bits of a make-up sponge, though a porous kitchen sponge would do the trick too. I dabbed some nail polish onto my work surface (I used a plastic placemat to protect my desk), and dabbed the rough edge of my torn-up sponge in the polish. One color at a time, I dabbed and sponged on colors to create a galaxy affect (you really only need a little bit of color). In this order, I used: Butter London Blagger Nail Lacquer; Sation Nail Lacquer in Miss Emo Shun All; Illamasqua Nail Varnish in Jo'mina; and China Glaze White On White. Then I painted on some China Glaze Fairy Dust in random spots (not all over, as I thought that might be too much). I used a small detailing brush to create the more visible stars and lens flairs using China Glaze. I sealed it all in with Sally Hansen Dries Instantly 30 Second Top Coat.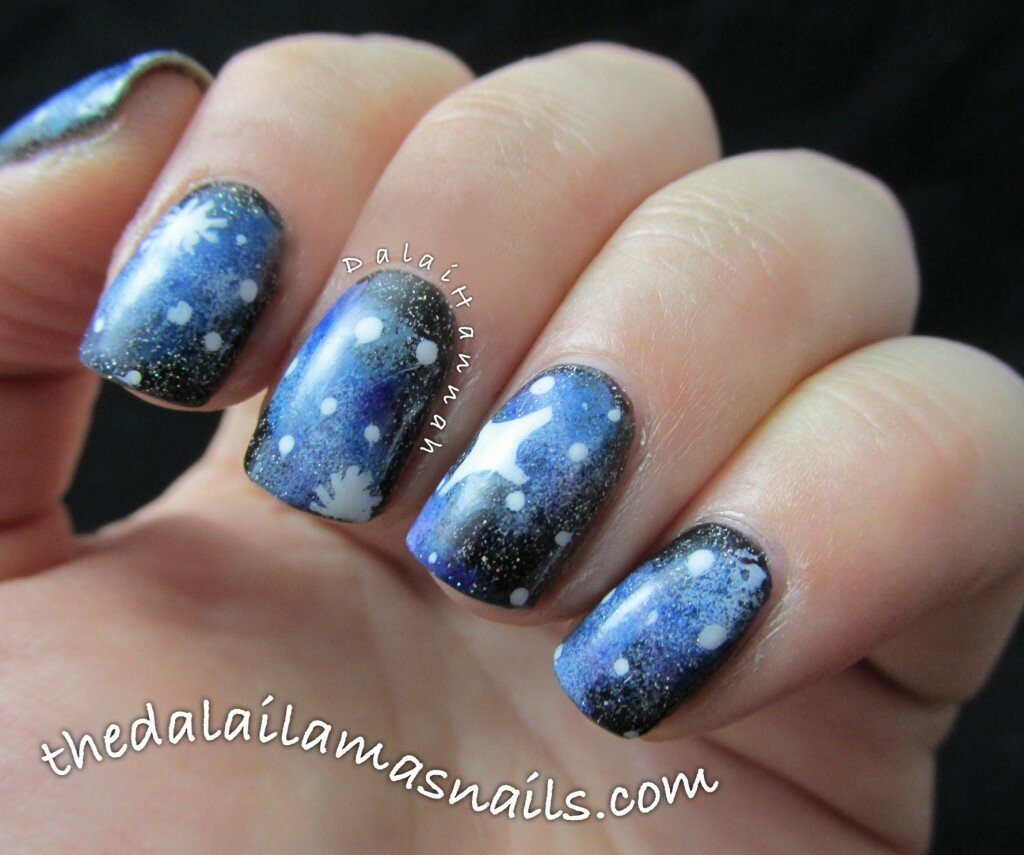 Happy Thanksgivukkah!
Hannah Pearlman is the artist behind thedalailamasnails.com. Check out her work on Twitter and Instagram as well. She loves creating works of art on 10 small canvases. Hannah just moved to Denver from Boston with her husband and dog.